IMPLEMENTASI CIRI ENERGI RATA – RATA, CACAH PERPOTONGAN PADA TITIK DAN RASIO PERIODE KEHENINGAN PADA PENCARIAN FILE AUDIO
Abstract
Recently, the main focus in research and development are pointing to multimedia data, including audio. The method used for indexing and retrieval of multimedia data is known as MIRS  (Multimedia Indexing and Retrieval System). MIRS differs from traditional database management system since multimedia data has different characteristics compared to alphanumeric data.
In this research a method for indexing and retrieval of audio file is developed and evaluated. The number of samples of the data used in this research are varied, but the sampling rate and the numer of bits per sample are the same. An audio file is represented by a number of features extracted from the file and stored in the system's database. The features used for this research are average enegy, zero crossing rate and silence ratio. The three features are used for matching between query audio file and audio file in the database either individually or simultaneously.
The experimental results show that the succes rate of this system to find audio files depends on the feature used and the threshold used for measuring the similarity between query audio and files in the database.  By using Euclidean Distance, the average energy gives 90% succes rate, the zero crossing rate gives 77% succes rate, the silence ratio gives 90% succes rate and the combined feature gives 90% succes rate. This succes rate percentage showed that the features used to recognize similarity between query audio file and database audio file is appropriate.
Keyword :  MIRS, average energy, zero crossing rate, silence ratio
LP4M IBI DARMAJAYA
Jl. Zainal Abidin Pagar Alam No. 93 Labuhan Ratu, Bandar Lampung.Kampus IBI Darmajaya,  Gedung A Lantai 2.Telp. 0721-787214, 781310 Fax. 0721-700261 ext.126

Index by: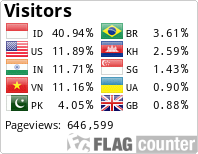 Jurnal Informatika is licensed under a Creative Commons Attribution 4.0 International License. My Stats jurnal