DESAIN SISTEM JARINGAN PENGONTROL AKTIVITAS PRAKTIKUM MAHASISWA DI LABORATORIUM KOMPUTER STMIK DARMAJAYA
Abstract
Practice is a study method in the university particular in the part of sains. In learning of some subject, practice should be done to reach instructional aim maksimally. Fasility which support that practice activyty is computer laboratory.
Practice activity in STMIK darmajaya is a important thing to student  fluency in practicing the theories that they have got. Therefire, a system which can control all of practice activity is needed. This control link system is mode to adapt the working system of VNC (Vitual Network System), borland delphi 7 software to arrage its software. This software can operate computer in far distance, software which is used in arrangeing software is borland delphi 7.
This research suggest a software whis is usefull to control student practice activity in computer laboratory. By that software coocrdinator, leacture or laboratory asistant can see and contol student activity in computer laberatory so that will su suport seriouse activity and increase student's seriously in doing practice.
Keyword : Network System Control
LP4M IBI DARMAJAYA
Jl. Zainal Abidin Pagar Alam No. 93 Labuhan Ratu, Bandar Lampung.Kampus IBI Darmajaya,  Gedung A Lantai 2.Telp. 0721-787214, 781310 Fax. 0721-700261 ext.126

Index by: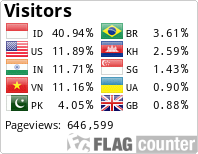 Jurnal Informatika is licensed under a Creative Commons Attribution 4.0 International License. My Stats jurnal