PERANCANGAN SISTEM RESERVASI DAN PROMOSI HOTEL BERBASIS WEBSITE
Abstract
The rapid development of information technology, triggering every area of life must be able to innovate so as not to lag or even disappear. One of the areas that has been utilizing many technologies is the economic and business areas. One of the businesses that is currently growing is the hospitality business. Regional potential in Indonesia that provides many benefits for tourists ranging from sport or recreation to make the business of hospitality become a promising effort. The number of hotels established, making business competition increasingly higher. facilities, promotion, service and convenience in obtaining information and transaction into a factor that can impact the business progress of the hotel. Fast information service especially for reservation is indispensable. This research aims to design a reservation and promotion system in a Web-based hospitality business.  The methods used in this research are the Software Development Life Cycle (SDLC) method as well as system design using Unified Modelling Language (UML).  This research generates a prototype reservation system and promotion of a website-based hospitality business that can be implemented to build information systems and can then be used to facilitate the dissemination of information/hotel promotion and facilitate consumers to make reservations online
Keywords
System design; reservation; promotion; hospitality business; Unified Modeling Language (UML); Software Development Life Cycle (SDLC)
References
S. Sugiyarto, dan R. Amaruli, "Pengembangan Pariwisata Berbasis Budaya dan Kearifan Likal," Jurnal Administrasi Bisnis, Vol. 7, No. 1, pp. 45-52. 2018.
Badan Pusat Statistik (BPS). [online]. Available: https://www.bps.go.id/subject/16/pariwisata.html#subjekViewTab3 [Accessed: 08-Nov-2019].
Kementerian Pariwitasa Republik Indonesia. [Online]. Available: http://www.kemenpar.go.id/post/statistik-tingkat-penghunian-kamar-hotel-bintang-tahun-2019. [Accssed: 8 -Nov- 2018].
Xiangping, B., Canhul, W., & Fei, F, Application Of Six Sigma to Hotel Service Management and Srvice Science, 2009. MASS '09. International Conference On (pp.1-4). Wuhan: IEEE, 2009.
Ahmadi dan Hermawan, "E-Business & E-Commerce", Yogyakarta: Andi. 2013.
Kadir, A, "Introduction to Internet", Yogyakarta: Andi, 2010
J. Wong., "Internet Marketing for Beginner", Jakarta: Elex Media Komputindo, 2010.
Bilgihan, A., Okumus, F., Nusair, K., & Kwun, D.W, " Information technology applications and competitive advantage in hotel companies", Journal of Hospitality and Tourism Technology, Vol. 2 No. 2, pp. 139-154, 2011.
Bardi, J., Hotel Front Office Management. Fourth Edition. Canada: John Wiley & Sons, Inc, 2007
R.Mcleod, "Management Information Systems", Jakarta: Salemba Empat, 2008.
Sommerville, I. "SOFTWARE ENGINEERING", Ninth Edition. United States of America: Addison-Wesley. 2010.
Kendall, Kenneth G., & Kendal Juli E,. "Analisis dan Perancangan Sistem,", Indeks: Jakarta, 2007.
J.S. Valacich., J.F. George & J.A Hoffer, "Essential Of Systems Analysis anda Design", 5th Edition ed. B.Horan, Ed. New Jersey: Prentince Hall, 2012.
Tandilian, Friska DL., Purwantar, I Made Adi., & Jawas, Naser., "Rancang Bangun Sistem Informasi Reservasi Hotel Berbasis Web dengan Framework Codeigniter(Studi Kasus CV,BSB Travel), Jurnal Sistem dan Informatika, Vol. 9, No.2, pp. 71-78, 2015.
Purwandari, Nuraini & Kusumawatie, Arie., "Aplikasi Simpan Pinjam Pada Koperasi Keluarga Karyawan Kalbis Sejahtera Berbasis Wesite", Jurnal ilmiah Komputasi Vol. 18, NO. 3, pp. 287-302, 2019.
Siregar, Victor M.M, "Perancangan Website Sebagai Media Promosi dan Penjualan Produk", Jurnal TAM (Technology Acceptance Model) Vol. 9 No.l, pp. 15-21, 2018.
Dewi, Shanty Kusuma & Carside, Annisa Kesy., " Perancangan Website sebagai Medai Promosi dan Penjualan pada Home Industy Abon", Jurnal Teknik Industri Vol. 15, No.2, pp.170-181, 2014
T.W. Oktaviani, "Perancangan User Interface Berbasis Web Untuk Home Automation Gateway yang Berbasis IQRF TR53B", JNTETI, Vol. 3, No. 3, pp. 179-186, 2015.
DOI:
https://doi.org/10.30873/ji.v20i1.2025
LP4M IBI DARMAJAYA
Jl. Zainal Abidin Pagar Alam No. 93 Labuhan Ratu, Bandar Lampung.Kampus IBI Darmajaya,  Gedung A Lantai 2.Telp. 0721-787214, 781310 Fax. 0721-700261 ext.126

Index by: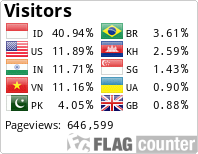 Jurnal Informatika is licensed under a Creative Commons Attribution 4.0 International License. My Stats jurnal