PERBANDINGAN ALGORITMA PIXEL VALUE DIFFERENCING DAN MODULUS FUNCTION PADA STEGANOGRAFI UNTUK MENGUKUR KUALITAS CITRA DAN KAPASITAS PENYIMPANAN
Abstract
Keamanan dan kerahasiaan data merupakan salah satu aspek penting dari suatu informasi. Pentingnya nilai informasi pada setiap aspek dapat memungkinkan adanya usaha pemindah alihan atau pencurian informasi atau data oleh pihak yang tidak berwenang. Adapun salah satu teknik untuk mengamankan data dan informasi yaitu dengan menerapkan penggunaan teknik steganografi. Penelitian ini membandingkan dua metode pada steganografi yaitu Pixel Value Differencing (PVD) dan Modulus Function (MF) untuk mengetahui metode mana yang lebih baik dalam hal kualitas citra dan kapasitas penyimpanan pesan. Penelitian ini dikembangkan menggunakan bahasa pemrograman Phyton dengan citra yang diuji pada kedua metode adalah citra berformat PNG. Berdasarkan hasil pengujian yang dilakukan algoritma PVD menghasilkan kualitas citra yang lebih baik dari algoritma MF karena menghasilkan nilai Peak Signal to Noise Ratio (PSNR) dengan rata-rata lebih dari 40db dan algoritma PVD juga menghasilkan stego image yang lebih banyak dapat menampung pesan dibandingkan algoritma MF.
Keywords
Keamanan Data, MF, PSNR, PVD, Steganografi
References
Jonathan, I., Haryono, A.Y., Leonardi, K., 2017. Penelitian Mengenai Metode Steganografi Least Significant Bit. ULTIMA Computing, Volume IX, hal. 17-20.
Suhendri, A., Juniansyah, B.D., Priono, M.J., Darwis, D., Implementasi Kombinasi Affine Cipher dan One Time Pad dalam Pengamanan Pengiriman Pesan. Jurnal Informatika, Vol.18 No.2, hal. 124-129.
Zhao, J. X. Q., 2015. Data Embendding Based on Pixel Value Differencing and Modulus Function using Indeterminate Equation. The Journal of China Universitas of Posts and Telecommunications, Issue 22(1), hal. 95-100.
Li, H., 2018. Steganography With Pixel Value Differencing and Modulus Function Based on PSO. Journal of Information Security and Applications, Issue 43, hal. 47-52.
Mishra, M., Mishra, P., 2012. Digital Image Data Hiding Techniques, ANSVESA, Volume 7 No.2, hal. 105–115.
Darwis, D., Junaidi, A., Wamiliana., 2019. A New Approach of Steganography Using Center Sequential Technique, Journal of Physics: Conference Series, Volume 1338. No. 1, hal.1-6
Darwis, D., Prabowo, R., Hotimah, N., 2018. Kombinasi Gifshuffle, Enkripsi AES dan Kompresi Data Huffman Untuk Meningkatkan Keamanan Data. Jurnal Teknologi Informasi dan Ilmu Komputer (JTIIK), Volume 5, No.4, hal. 389-394.
Awate., Patil, M.M., 2016. Modulus Function and Pixel Value Differencing Coupled with Modified Pixel Indicator Based Secret Data Hidding Method. International Journal of Advances in Science Engineering and Technology,Vol.4. No.2. hal. 26-29.
Darwis, D., 2016. Implementasi Teknik Steganografi Least Significant Bit (LSB) dan Kompresi untuk Pengamanan Data Pengiriman Surat Elektronik. TEKNOINFO, Volume 10. No.2, hal. 32-38.
Andono, P. N., Sutojo, T., 2017. Pengolahan Citra Digital. Yogyakarta: ANDI.
Pan, L. Y., 2011. image Steganography Method Based on PVD and Modulus Function. IEEE, hal. 282-284.
Tyagi, R. C., 2015. High Capacity Image Steganography Based on Pixel Value Differencing and Pixel Value Sum. IEEE, Issue 92, hal. 488-493.
Zulfansyuri, M., 2016. Kombinasi Algoritma Pixel Value Differencing Dengan Algoritma Caesar Cipher Pada Proses Steganografi. Journal Of Computer Engineering, System And Sciences, Volume I, hal. 19-25.
Mahmood, T, Mehmood, Z, Shah, M., 2018, A robust technique for copy-move forgery detection and localization in digital images via stationary wavelet and discrete cosine transform. J Vis Commun Image Volume 53, hal. 202–214.
LP4M IBI DARMAJAYA
Jl. Zainal Abidin Pagar Alam No. 93 Labuhan Ratu, Bandar Lampung.Kampus IBI Darmajaya,  Gedung A Lantai 2.Telp. 0721-787214, 781310 Fax. 0721-700261 ext.126

Index by: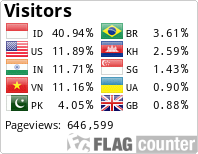 Jurnal Informatika is licensed under a Creative Commons Attribution 4.0 International License. My Stats jurnal