Sistem Informasi Pengolahan Data Training Pada PT. Great Giant Pineapple (GGP) Terbanggi Besar Lampung Tengah
Abstract
PT. Great Giant Pineapple (GGP) is the company that moves on gardening side and packaging pineapples that located in Raya Menggala Street KM. 77 Terbanggi Besar, Center Lampung. Every company have the aim, one of them is the increasing creativity on working. By the goal from the company itself, so the company always tries to be better in order to the aim of the company will be reach.
I used method of library research and filed research to help my analysis and arrange system information of data training employee in order to can help organization on doing their job with easily process.
The result of this research is the application program that help employee on doing the schedule of training, personal data of training, and the score of training, searching of data, moreover serving the reports like the report schedule of training, the participant form of training, personal data of training, and the result of evaluation (score) of training, report data parting and report module of training.
Keyword: Training, Information
DOI:
https://doi.org/10.30873/ji.v10i1.153
LP4M IBI DARMAJAYA
Jl. Zainal Abidin Pagar Alam No. 93 Labuhan Ratu, Bandar Lampung.Kampus IBI Darmajaya,  Gedung A Lantai 2.Telp. 0721-787214, 781310 Fax. 0721-700261 ext.126

Index by: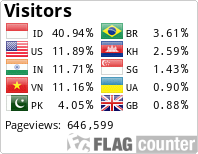 Jurnal Informatika is licensed under a Creative Commons Attribution 4.0 International License. My Stats jurnal