Implementasi Metode Basisdata Terdistribusi Untuk Pengelolaan Data Perpustakaan Berbasis Web
Abstract
In order to achieve information about library collection and data access had a problem caused services still manually for locating that information or someone had to go by them self to the library, and also slowly processing transaction.
By this problem, need to build application using distributed database methode to apply management information system based on web to handle library management.
System can handle order transaction book collection, borrowing and returning, withdrawing and replacing lost books.
Final Result  from this research is that the system can do accommodate that need by Management Information System based on web for  data management to implementation at library A and Library B (difference place).
Keyword : Web, Barcode, Distributed Database
DOI:
https://doi.org/10.30873/ji.v10i1.147
LP4M IBI DARMAJAYA
Jl. Zainal Abidin Pagar Alam No. 93 Labuhan Ratu, Bandar Lampung.Kampus IBI Darmajaya,  Gedung A Lantai 2.Telp. 0721-787214, 781310 Fax. 0721-700261 ext.126

Index by: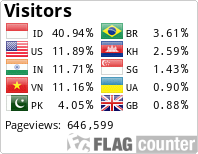 Jurnal Informatika is licensed under a Creative Commons Attribution 4.0 International License. My Stats jurnal